LED bulbs
Long life, instant full brightness, and energy efficiency
Voice control
Hands-free lighting adjustment
Wireless connection
Easy installation and mobile lighting controls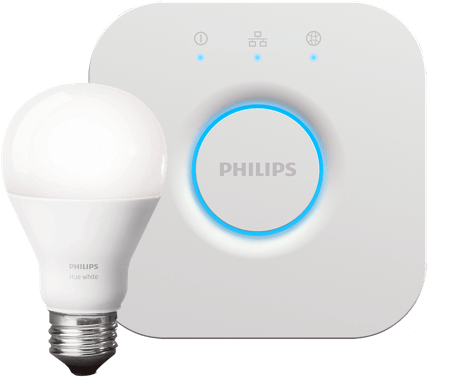 Vivint app integration
Turn lights on/off and adjust dimming from the Vivint Smart Home app
Lighting groups
Coordinate rooms, floors, or an entire home
Custom lighting rules
Set lights to switch on and off when you want them to
Click here to learn more about the Philips Hue product line.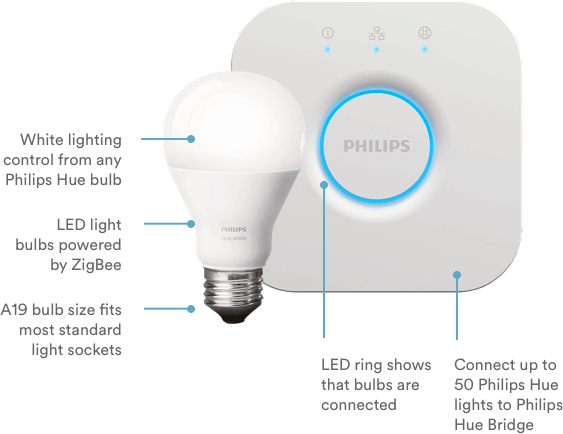 Light output
840 lm @ 2700K
Required products
Philips Hue Bridge
Communication protocol
ZigBee
Compatibility
iOS 8.0+ or Android 2.3+
Click here to learn more about the Philips Hue product line.
Speak and your
smart lighting listens
Combine Philips Hue smart light bulbs with voice control devices like Google Home, or Amazon Echo into a really bright idea—lighting that listens. Then, whether it's movie night with the family or a quiet night at home, you can create a softer mood with just the sound of your voice.
A seamless system to control everything from one place
Vivint Smart Home makes your Philips Hue lighting work in conjunction with your entire smart home system. With the intuitive dashboard of Vivint SkyControl Panel or the 4.5-star Vivint Smart Home app, you can lock up, arm security systems, and turn the lights out all from one place.
Let your smart lighting carry the torch while you're gone
Philips Hue bulbs with Vivint Smart Home controls gives you the power to turn the lights on while you're off traveling. Just set custom lighting rules to create the appearance that you're home, then go ahead and hit the road. Your home will carry the torch while you're away.
Set your lighting to
welcome you home
Philips Hue makes Vivint Smart Home even brighter. Smart lighting lets you create a home that's savvy to when you need a hand. With full smart home integration you can set Philips Hue lighting to switch on when you unlock the door. Enjoy the welcome home.
Intelligent Illumination.

Vivint Smart Home App
Control the lights in your home from your smartphone.

Custom Lighting Rules
Set lights to switch on and off at specific times.

Wireless Connection
Easy installation and mobile lighting controls.

Voice Control
Adjust lights using voice commands when you add a smart speaker to your Vivint system.

Manual Control Button
Front button on the lamp module for manual on/off control.

Z-Wave Compatible
Works with Z-Wave devices.
See more
At home and away.
Forgot to turn off the lights on the way to work? Get them from your phone. Switch on the kitchen lights when you pull into the driveway. Turn off all the lights in your house with one touch on your way to bed. Access your lights from anywhere in or outside your home using the Vivint Smart Home App, your Vivint Smart Hub, or Vivint Glance Display.
You make the rules.
Custom lighting rules help make your home safer and more efficient. Confuse would-be intruders with motion-activated lights, save energy by turning lights off when you're away, or make sure the lights are on when you arrive home from work with lighting schedules. You choose what works best for your home.
No need to get up.
Seems like your hands are always full—making dinner, helping kids with homework, or settling down with a good book. Sometimes you just don't want to walk across a room to flip a switch. The Vivint Lamp Module works with smart speakers integrated into your system, so you can effortlessly control your lights with the sound of your voice.
Professional installation from Smart Home Pros
Include Philips Hue smart lighting with Vivint Smart Home services to get the white-glove experience of professional installation. Smart Home Pros will integrate your smart light bulbs into your smart home system to ensure hassle-free performance.