Vivint Doorbell Camera Pro™
Say goodbye to package thieves.
Get a free quote now
Call

855.290.3685
or fill out the form

No Obligations
Never miss an important moment at your front door
Smart Sentry™ AI Package Protection
Smart Sentry™ activates the camera's LED ring and 65 dB speaker so potential porch pirates know they've been spotted.
Exclusive 180° x 180° Field of View
Widest and tallest field of view lets you see the faces of tall visitors and packages right under the doorbell.
2-way Talk, One Way Video
See and speak with visitors at your door, from anywhere.
Night Vision
Infrared night vision LEDs ensure a clear picture at night.
Package Delivery Notifications
Advanced camera analytics detect and notify you of people and packages on your doorstep.
Live and Recorded Video Streaming
A 1080p HDR sensor delivers crisp, detailed live streaming and recording, even when you zoom in.
Vivint Smart Clips™
Video recordings that don't stop until the action does.
User-defined Surveillance Zone
You define the areas you want to protect.
See more
Let your doorbell scare away porch pirates.
Using Vivint's Proprietary Smart Sentry™ AI technology, the Vivint Doorbell Camera Pro notifies you of package deliveries and lets package thieves know they've been spotted. It doesn't just capture crime, it actively helps prevent it.
You can't protect it if you can't see it.
The Vivint Doorbell Camera Pro helps you see it all. With industry-leading optics, our wireless doorbell camera provides more effective porch protection than traditional video doorbells. Its 180° x 180° field of view is the tallest and widest view offered in a doorbell camera, letting you see packages placed right under the doorbell without losing the faces of tall visitors. With 1080p HDR resolution and infrared night vision, you get a clear view of everything outside your door at any hour.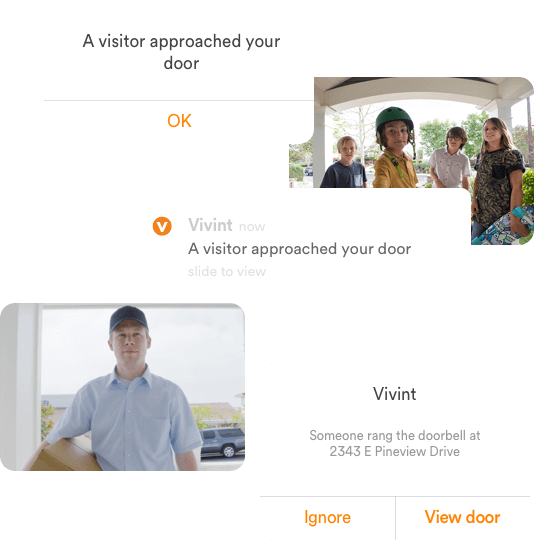 Answer your door from anywhere.
Smart Detection recognizes visitors on your porch. And with its built-in two-way talk, the Vivint Doorbell Camera Pro lets you speak to visitors even when you're away. Through the Vivint Smart Home app, you can open the door for anyone from anywhere. You'll always know who's there and you can greet them whether you're home or not.
Smart home controls make you a better host.
With Vivint Doorbell Camera Pro integrated into your Vivint Smart Home system, you can talk to visitors, unlock doors, and turn on lights from a single app. That means you can greet your dinner guests when they arrive right from your phone, and you won't need to leave them waiting on your doorstep if you've been delayed.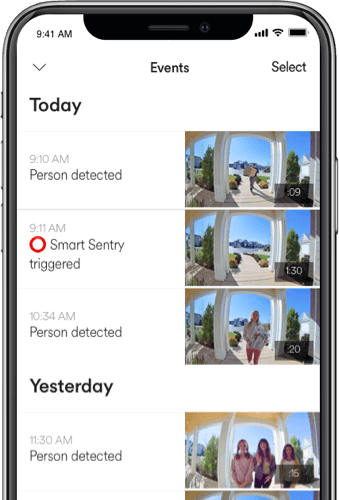 Smart Detection records only (and all of) what matters.
Unlike other video doorbells, Vivint Doorbell Camera Pro's visitor detection distinguishes people and packages from passing cars, dancing shadows, or waving branches. Real visitors activate Vivint Smart Clips™ recordings that don't stop until the action does. They're then saved for 14 days to give you time to catch up on what you've missed.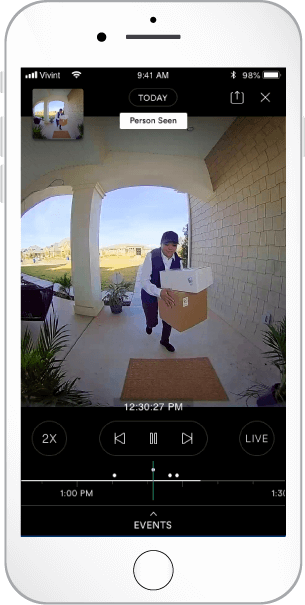 Save all the important moments with Vivint Playback.
Vivint Playback™ upgrade adds 24x7 recording to the doorbell camera experience. Video doorbell recordings upload to the Vivint Smart Drive (additional purchase required) to avoid crushing your internet connection. And since it all integrates into one smart home system, you can view recordings from the Vivint Smart Home app.
Free Professional Installation from Smart Home Pros
Every Vivint Smart Home system gets professionally installed by qualified and licensed Smart Home Pros so you can focus on your life. Our installation teams will make sure your doorbell camera blends with your home exterior, links up seamlessly with your Vivint Smart Home system and works the way you want it to.
Specifications
Vivint Doorbell Camera Pro
Camera Lens
180° x 180° with 1:1 aspect ratio
Field of View
180° vertical, 180° horizontal
Audio Speaker Volume
65 dB
Connectivity
2.4/5GHz 802.11 b/g/n/ac band Wi-Fi
Size
4.6 x 1.5 x 1.3 inches (118 x 37 x 33 mm)
Power Usage
12-24 DC, 16-24 AC, 1.0A min.
Video Resolution
Up to 1080p with HDR
Night Vision
2 high-powered infrared LEDs (850nm)
Bandwidth Required
1.5 Mbps upload
See more
Frequently Asked Questions
How does a front door camera improve my home security?
+
Vivint Doorbell Camera isn't only one of the smallest, but also one of the smartest outdoor cameras in the security market. It provides homeowners with valuable benefits beyond simply knowing there's a visitor at the door. Here are just a few:


A front door camera lets you know the identity of the visitor before opening the door.
You know which family member is the right one to send to the door.
Anything that happens on your doorstep gets recorded.
Click here for more on the security benefits of installing a smart doorbell.
How does a smart doorbell make me more productive?
+
The electric doorbell first appeared back in the early 1800s. Originally intended as a simple alert signifying doorstep visitors, today's wireless doorbell technology improves upon the basic notification in many ways that make managing your home more efficient.

Click here for more on the benefits of a WiFi doorbell.

Build your perfect smart home

Smart Lights
Set your lights to turn on and off at anytime

Smart Locks
Lock your doors wherever

Doorbell Camera Pro
See who's at your front door

Garage Door Control
Open and close your garage anywhere

Ping Indoor Camera
See your home from anywhere

Door & Window Sensors
Know if windows or doors are open
See more
Examples of Vivint Doorbell Camera Pro Packages

Doorbell Camera Pro
+
+
+
+
+
Call to learn more and customize your own system
855.290.3685
Read what our customers are saying